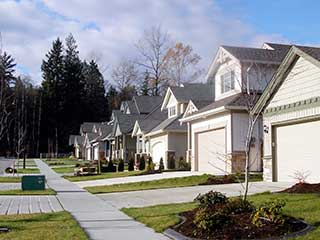 At Garage Door Repair Bloomington we're dedicated to providing you with the best services for any related need you may have. We offer replacements for both torsion and extension springs, various types of door panels, different opener parts and much more. We also offer scheduled maintenance appointments that can help your system stay at an optimal level for as long as it can.
Handling Springs Safely
Springs hold enough tension within their coils to cause severe bodily injury when mishandled by inexperienced persons. If you don't haven't gone through the necessary training and are lacking in the required expertise to handle these dangerous components, then don't even attempt to deal with them. Be safe and call our professional garage door specialists to do it for you. All of our technicians are trained to avoid the dangers involved in replacing and adjusting your springs and can ensure that they'll continue to function properly for as long as possible.
Fixing the Opener
If your belt, chain or screw drive garage door opener suddenly conks out on you, then call our company and have us take a look. We are well equipped to handle all types of openers of all brands. We will do a thorough inspection to see which parts have gotten damaged and then quickly fix for them. It doesn't matter if the problem is electronic or mechanical, we have the right tools and technical know how to do the job right.
Replacing the Panels
The door itself takes a central role in the overall external appeal of your home. This is the reason why it is very important to take dents, breaks or even rust seriously and to consider replacing the damaged panels. At Garage Door Repair Bloomington, we have a wide variety of panels available in our inventory. No matter the type or manufacturer, we are confident that we'll have just the right one for a perfect fit that will make your door look brand new.
Rollers, Cables, and Tracks
Behind the scenes, rollers, cables, and tracks play a very important role in raising or lowering your garage door. As part of our thorough maintenance service, we will take a look at these parts and check their proper function. If anyone of them is found to be defective, we can provide you with the right replacements.
Call Garage Door Repair Bloomington Now!
Call our company today if you require professional, technical assistance with your garage door or opener.
The Best Service Provider Around:
Top-quality Replacement Parts
Highly Skilled Technicians