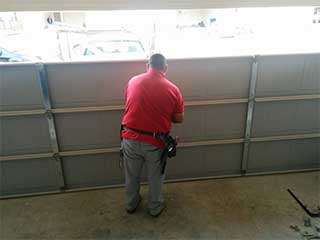 What Symptoms You May Notice?
Have you been finding yourself frustrated by a garage door that moves more sluggishly than it used to? Or, has it gotten progressively noisier or shakier than before? Perhaps it even stops abruptly in the middle of opening or closing? All of these things point to one fact: your door is in need of repairs! Any number of its parts may have gotten worn down from daily use, and this is what's causing the trouble. While you may think it's fine to let it go for now, the truth is that it tends to cause breakdowns in other parts of your garage door, which will be an even bigger problem in the long run.
Let Us Handle It!
Our experts would be happy to come out and get to work locating the source of the issue and fixing it as soon as possible! Years of work in the area means that we've seen it all, there's nothing we haven't dealt with before. Whether it's the extension or torsion spring, the rollers or cable, opener, or any other component, we can repair or replace it easily. We use only the finest tools and parts, and can tend to a wide variety of brands. That way, no matter what you have, you can trust that we'll be able to take care of it. Panel replacements are also available for ones that are looking a bit worse for wear.
Have An Emergency?
Don't worry about it! Be it an accidental bump with a car, or no foreseeable reason at all - these things happen. Just call us and let us know that it's an emergency. We'll get out to you quickly, and get to work on whatever it might be. You'll be able to get back on track with your busy schedule before you know it! Our technicians are standing by, and ready to assist you.
Contact Us Today!
Rather than live with a loud, staggering , or altogether inoperable door - just give Garage Door Repair Bloomington a call or schedule your appointment online easily! We are looking forward to hearing from you!
But wait, there's more! We also offer:
Garage Door Safety Inspections
Opener Sensor Repair & Replacement
Extension Spring Adjustment
Broken Garage Door Track Repair