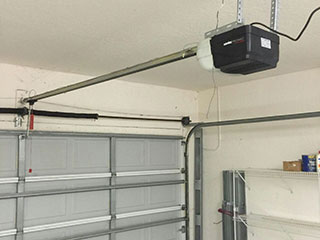 Having Trouble with Your Opener?
You probably do not know what the problem is, but we definitely will! The reason your garage door isn't working properly may be linked to a number of problems – one of which is could be related to the opener. If you find your door making any screeching noises, not opening smoothly, or just acting abnormally, it may be time for you to contact us so we can run a check on it. We will detect the source of the problem, and offer the most appropriate solution.
Need Repairs? Not a Problem
Our expert technicians have the know-how to remedy any issue with your garage door opener using only top quality implements and parts. It probably needs swapping an old part for a new one if the model is old and worn, or maybe just some tweaking. In any case, we are well equipped to handle it. As an experienced company, we are familiar with a wide range of brands and know which one will suit your needs making our work easy and snappy. We can also fix or change the remote or sensor if that happens to be the cause of the problem.
Dependable and Express installation
Have a manual door or your old opener just doesn't cut it anymore? We'll install a new one for you! Our professionals will gladly base your decision on what brand or type will be just right for your needs and budget, from screw to belt drive models. You can count on our speed even when it comes to emergency replacements – as we know how inconvenient it is to have to deal with a malfunctioning garage door.
So What Are You Waiting For?
Why do you put up with a door that's not working efficiently, when the solution is just one call away? Contact Garage Door Repair Bloomington now, and allow us handle your opener troubles and get it back in top shape. You don't have to hurt your well-planned day because of a faulty door. Contact our professional team now to get same day service!
When it comes to your door, we don't settle! We also offer:
Garage Door Off Track Repair
Emergency Broken Spring Replacement
Belt Drive Opener Installation
Part Replacement & Repair