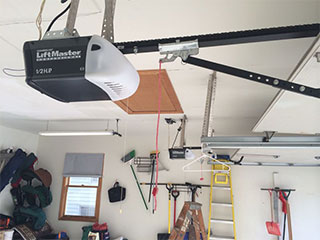 Although the average garage door might seem like a giant indestructible mechanism, much like the biblical Goliath, it can sometimes take something as small as a pebble to bring it down.
Well, perhaps we're being slightly hyperbolic. Although, an accumulation of debris in its sliding track can actually cause the door to slide off. This may seem like a rare situation, but the inherent danger of a 300 pound (or more) piece of steel, wood or any material for that matter, is something every homeowner would likely want to avoid.
Lucky for you, we have a way to prevent, and oftentimes avoid altogether, the majority of potential issues. It's called m..m..m..m..maintenance.
Spring Lubrication
Due to the nature of their operation, garage door springs suffer through a great deal of tension. This makes them both susceptible to damage, as well as highly dangerous to handle without the proper training. What our technicians can do for you is apply the proper lubrication to each spring, and then test and adjust it appropriately to make sure it's in the best possible condition it can be.
Safety Sensor Testing
Very much like you, your garage door has "eyes". These are called photoelectric sensors, and their purpose, much like our own eyes, is to detect potential danger. In this case, the danger can affect not only your door but your family and property too. These sensors use an invisible infrared beam to check no object or person has come to block your door's path. If they detect something, they force the system to go into reverse. Our technicians can test these sensors to ensure they're working correctly, as well as make sure they haven't gotten misaligned, and reposition them if they have.
A Variety of Other Solutions
With our scheduled maintenance appointments, you won't have to worry about little parts of your garage door wearing down too badly or breaking down without you noticing. Our professional technicians will test and check every single part and feature of your system to make sure everything is working properly, and whatever component, big or small, that they find to be operating at less than peak efficiency, they'll repair or replace, depending on the severity of the issue.
Call today to have our Garage Door Repair Bloomington experts test out your door and apply the very best solutions to any discovered problem. Drop by our office or give us a call.
We also offer the following:
Torsion Spring Repair & Replacement
Garage Door Opener Track Maintenance
Overhead Door Installation
Garage Door Cable Replacement